Special Superbook Broadcast
Join The Superbook Project on January 27th, starting at 4 PM EST, to watch never before aired episodes of Superbook and get an inside look at how Superbook is changing the lives of kids around the world.
This special Superbook live event will be broadcast simultaneously on the following channels:
Get Your Free Kids Bible Adventures Devotional
Looking for a way to share the Bible with children? Download Gizmo's Bible Adventures, a free 30-day devotional created just for kids. Children will love developing the habit of reading God's Word every day.
Thank you for sharing Gizmo's Bible Adventures!
4:00 P.M. EST
Solomon's Temple
Chris realizes that he won't be able to attend the National Competition Finals with his Rampaging-Robots team and the robot he designed! Superbook appears and whisks the kids away to Ancient Israel where they meet King David's son, Solomon, who will build the Temple of the Lord his father designed. Chris is amazed and a little confused how King David could design and prepare such an amazing structure, only to have someone else build it. Chris learns that it is the Lord's plan that succeeds, and that being a part of His plan is the best plan of all. After returning home, Chris accepts that while he can't attend the competition, he can still give his team the game winning plan and strategy, which they use to win the championship trophy.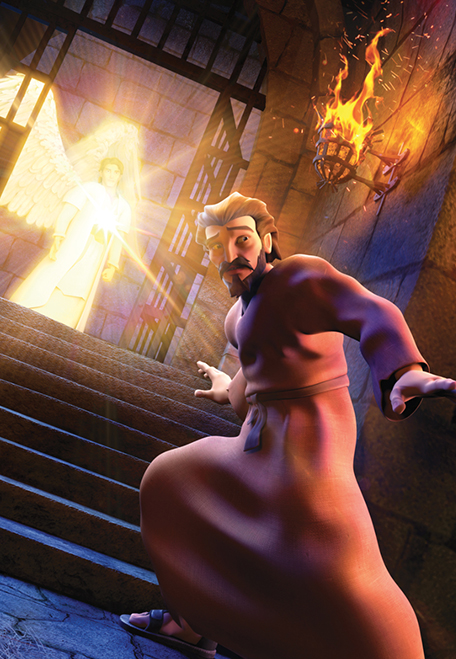 4:30 P.M. EST
Peter's Escape
Chris and Gizmo try to help Joy do a school geography project by sending her on a round-the-world Holo-9 virtual tour. As she sees scenes of deprivation and hardship, Joy is overwhelmed by the state of the human condition and wonders how she can make a difference. Superbook takes Joy, Chris and Gizmo to meet Peter, Rhoda, Mary, and other followers of Jesus. The children will learn how the power of prayer can lead to miraculous changes.
5:00 P.M. EST
Jesus Heals The Blind
Joy and Chris go to see a Christmas pageant that Chris' dad is running lights for. Chris recognizes the church as the one his grandfather took him to. This causes him to wonder why they no longer go to church as a family. Superbook arrives to take Joy, Chris, and Gizmo back in time to watch Jesus heal three blind men. They discover that some people are too blind to see Jesus as the Messiah.
5:30 P.M. EST
Joshua and Caleb
Chris gets his big break to start on the soccer team. His excitement quickly fades when he finds out some teammates are willing to cheat to win. Even worse, they want Chris to help them! Chris is in a bad spot! Superbook whisks the kids back to meet Caleb, Joshua and the ten other spies sent out by Moses to explore the land of Canaan the Lord has promised the Israelites.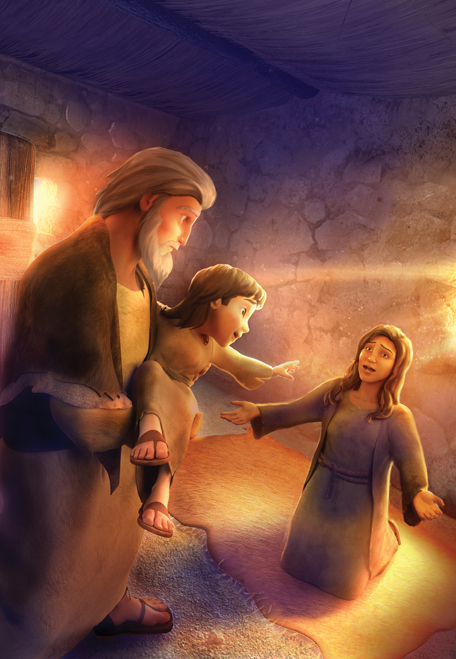 6:00 P.M. EST
Elijah and the Widow
Phoebe sends Chris out shopping for a list of items that she wants him to pick up at many different specialty shops. When Chris secretly decides he knows better and can get everything in a "one-stop-shop," Superbook whisks the kids away. They spend time with Elijah in Cherith's Ravine and travel with him to Zarephath.
6:30 P.M. EST
Teach Us to Pray
After his grandpa dies, Chris and his grandma find an old family Bible. When she begins to cry, Chris feels desperate. What can he do to help? Get ready for a heart-pounding adventure as Superbook takes Chris, Joy and Gizmo back to New Testament times. Witness the wonder as Jesus is gloriously transfigured on the mountaintop. See how He teaches the disciples to pray in faith—and to cast out demons! Children will discover that the Lord's Prayer is still the perfect guideline for praying today.
7:00 P.M. EST
Jeremiah
When Chris encounters bullies stealing money from a blind man, he is too afraid to stand up to them. Superbook whisks the kids away to Jerusalem 600 B.C.. They meet the great prophet, Jeremiah, who faces humiliation, degradation, and possible death for speaking God's message of repentance and judgment. The kids are whisked home and Chris gathers the strength, from Jeremiah's example, to stand up to the bullies as Jeremiah did in his day.
Help us reach children around the world with the Bible in their own language, in ways they can easily understand.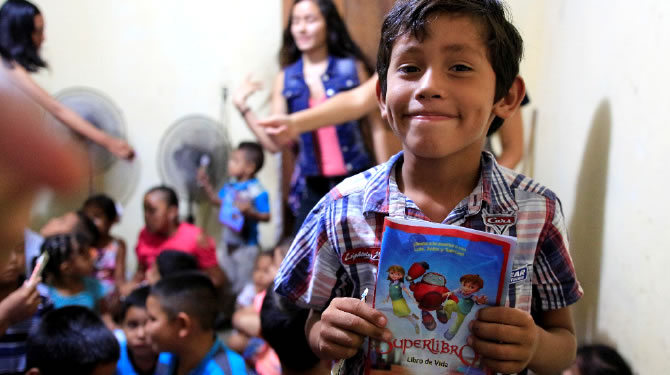 Support the Superbook Project
The Superbook Project is a donor-funded initiative that for over 35 years has shared the timeless message of the Bible through biblical animated stories— reaching hundreds of millions of children and families all over the world with the truth of God's love and grace.
We urgently need your support to share the stories of the Bible with tens of thousands of Japanese children. Your gift will play a vital role in continuing Superbook broadcasts in Japan, translation for episodes, mobile apps and the website, developing resources for schools and churches, and much more!
Share the newest DVD releases of Superbook with the precious little ones in your life. When you do, you'll also be helping to produce, translate, and share these captivating animated stories with the children of the world in their own languages.