Help us bring Superbook to a new generation in Japan.
Sharing the love of Jesus and bringing Bible stories to life for the children of the world.
Superbook is the Bible brought to life through animation—a timeless form of storytelling—to introduce children to Jesus and help develop their faith.  Millions have come to know Jesus as their Savior through Superbook. Now, partners are joining with us in the Superbook Project—helping produce more episodes, create mobile apps, websites, and curriculum for children to experience—in their own languages. The Superbook Project works closely with local churches and community ministries to develop resources for vital follow-up and discipleship. Superbook is so much more than entertainment for children. Where these animated episodes end, life-changing stories begin.
How you can help change lives
See the impact of the Superbook Project in the lives of families and communities around the world.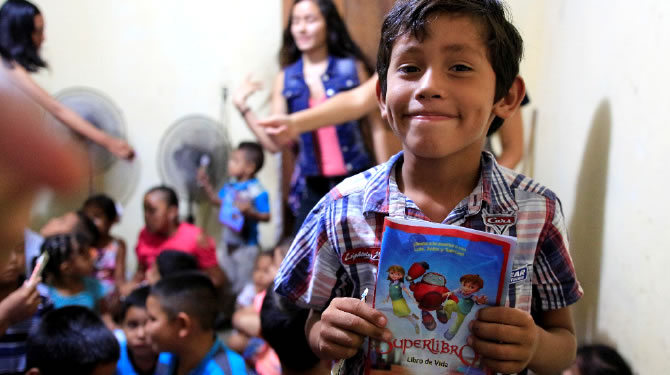 With your help we've produced 49 episodes, translated episodes into over 40 languages and broadcast Superbook in over 90 countries.
The Superbook Project is part of CBN's global effort to take the Gospel to every nation. Help us reach every child.
Get Your Free Kids Bible Adventures Devotional
Looking for a way to share the Bible with children? Download Gizmo's Bible Adventures, a free 30-day devotional created just for kids. Children will love developing the habit of reading God's Word every day.
Thank you for sharing Gizmo's Bible Adventures!
Latest Blog Posts and News
10-year-old Daniel is growing up in a town in southern Mexico known for its drug cartels and murder rate. Here gang members brag about their violent acts on social media. "I saw a young man with a gun and a hood over his face. When I saw him I thought I wanted to be…
Read or Watch full story
TOKYO – In its second month airing on Japanese television, CBN's Superbook is gaining more and more popularity. This past weekend, Superbook was featured at the Joy Joy Festival – the largest evangelistic event in Japan for kids and their families. Eighty-eight churches worked with Word of Life Press Ministries, Superbook's ministry partner in Japan,…
Read or Watch full story
More stories bringing hope
Reaching a Nation through Animation
Superbook returns to Japan
Bringing the Bible to UK Schools
Providing an exciting, media experience of the Bible for students
Together we've done alot, but we still need your help
Superbook Episodes are translated to the languages of families worldwide
Superbook Episodes have been broadcast to over 160 million viewers* in over 90 countries
49 Superbook Episodes have been produced and new episodes are in development
* Brown and Fraser is a research company founded by Regent University professors Drs. William Brown and Benson Fraser. To prepare the 2017 survey, field teams overseen by Brown and Fraser completed 25,102 interviews in 44 cities or regions of 14 countries. Results of these 14-country studies and results from previous CBN international programming studies were then applied to project the probable audience sizes and programming effects in all nations receiving CBN programming.
"Superbook teaches my children how to take biblical principles and apply them to real-life situations, to show compassion, to show forgiveness, to show love. It teaches them how to be more like Jesus - and that's the most important thing."
Neal & Carrie Rozema, Superbook Partners
"There is a church near our house, and we often get flyers saying, 'Please come to hear talks from the Bible.' But my other friends won't go with me, so I can't go. I've been wondering what the 'Bible' is. I'm glad I could see it on TV."
Japan Broadcast - Yachiyo, Chiba (TOKYO MX) (7 yrs old)
"This was the first time I watched the program Starbook (sic). It's 4 months since I became a Christian. There's still a lot I don't understand in the Bible, but through this anime I've come to understand some things. Looking forward to next week. The ending song (Salvation Poem) is moving. With thanks."
Japan Broadcast - Neyagawa, Osaka (Sun TV) (34 yrs old)
"We heard on the radio that you were coming and we came down from the mountains so that we could have Superbook."
Ecuador Special Projects - Quevellungo Indigenous Village - Parents