"Superbook has made me into a new person!"
Your gift today helps children like Channa learn about the love of God.
Superbook is the Bible brought to life through animation, a timeless form of storytelling, to introduce children to Jesus. Learn More
How you can help change lives
When you support the Superbook Project you impact the lives of families and communities around the world.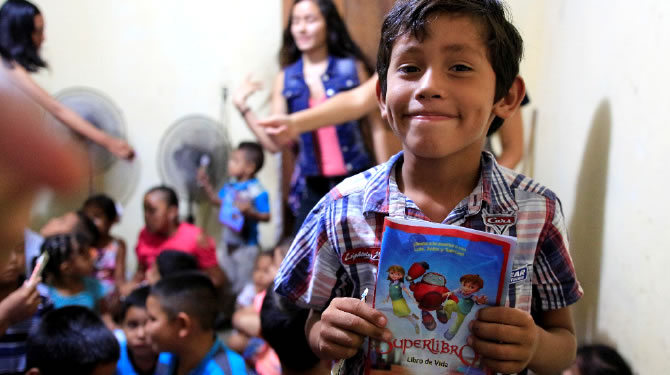 With your help we've produced 49 episodes, translated episodes into over 40 languages and broadcast Superbook in over 90 countries.
The Superbook Project is part of CBN's global effort to take the Gospel to every nation. Help us reach every child.
Grandma Olson knows how to throw a fun party for her grandkids. Pop a little popcorn and play an episode of Superbook! Six-year-old Charity exclaims, "I get really excited to come over and watch Superbook."Marilyn Olson says, "I see my grandchildren smiling and laughing – totally involved with the stories." "Yeah, it makes the Bible…
Read or Watch full story
9-year-old Channa moved to an orphanage after her father died and her mother abandoned her. "When he died and mom gave me away, I was afraid to love anyone. I thought 'If I love them, they will die or leave me,'" said Channa with her eyes cast downward. The longer Channa lived at the orphanage, the…
Read or Watch full story
Together we've done alot, but we still need your help
Superbook Episodes are translated to the languages of families worldwide
Superbook Episodes have been broadcast to over 160 million viewers* in over 90 countries
52 Superbook Episodes have been produced and new episodes are in development
* Brown and Fraser is a research company founded by Regent University professors Drs. William Brown and Benson Fraser. To prepare the 2017 survey, field teams overseen by Brown and Fraser completed 25,102 interviews in 44 cities or regions of 14 countries. Results of these 14-country studies and results from previous CBN international programming studies were then applied to project the probable audience sizes and programming effects in all nations receiving CBN programming.
Get Your Free Kids Bible Adventures Devotional
Looking for a way to share the Bible with children? Download Gizmo's Bible Adventures, a free 30-day devotional created just for kids. Children will love developing the habit of reading God's Word every day.
Thank you for sharing Gizmo's Bible Adventures!
"Superbook teaches my children how to take biblical principles and apply them to real-life situations, to show compassion, to show forgiveness, to show love. It teaches them how to be more like Jesus - and that's the most important thing."
Neal & Carrie Rozema, Superbook Partners
"There is a church near our house, and we often get flyers saying, 'Please come to hear talks from the Bible.' But my other friends won't go with me, so I can't go. I've been wondering what the 'Bible' is. I'm glad I could see it on TV."
Japan Broadcast - Yachiyo, Chiba (TOKYO MX) (7 yrs old)
"This was the first time I watched the program Starbook (sic). It's 4 months since I became a Christian. There's still a lot I don't understand in the Bible, but through this anime I've come to understand some things. Looking forward to next week. The ending song (Salvation Poem) is moving. With thanks."
Japan Broadcast - Neyagawa, Osaka (Sun TV) (34 yrs old)
"We heard on the radio that you were coming and we came down from the mountains so that we could have Superbook."
Ecuador Special Projects - Quevellungo Indigenous Village - Parents