Three years ago, a Buddhist woman named Ohm Mar was diagnosed with liver cancer.
"The doctor told me I only had six months to live," she told CBN. "I became very weak."
At first Ohm Mar told us she went to a temple in Myanmar to pray. Then she said that she remembered that, as a child, some Christians told me about "their God."
"But I never believed in it," she added. "When I got sick I started to ask Jesus to help me. I felt stronger."
Ohm wanted to learn more about Jesus and she wanted her daughter Yamin to know about Him too. So together they started watching CBN's Superbook, which aired on Myanmar's national network.
"At first I was drawn to the animation," said Yamin. "But I also liked the stories from the Bible. Then I watched the story He Is Risen. I was touched by His great sacrifice. I am happy that Jesus came alive again!"
One day a Christian friend watched Superbook with them.
"After the episode," said Ohm Mar, "we sang the Superbook Salvation Song together. Our friend explained what the song meant. Then she helped us to pray to give our lives to Jesus."
Ohm and Yamin now attend church together, and Ohm reports that her cancer symptoms have disappeared!
"I got healed!" exclaimed Ohm. "Superbook helped me trust in God more. I have surrendered everything into God's hands."
Help us reach children around the world with the Bible in their own language, in ways they can easily understand.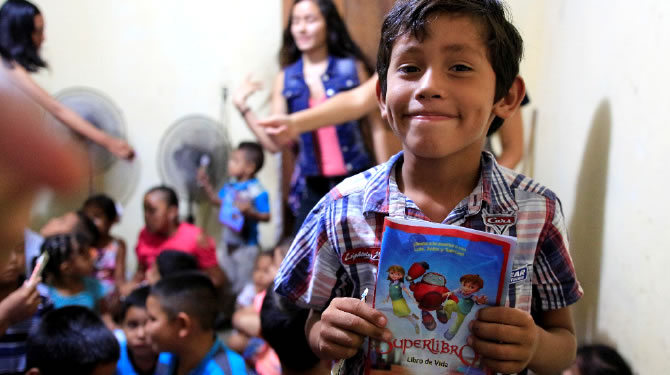 Support the Superbook Project
The Superbook Project is a donor-funded initiative that for over 35 years has shared the timeless message of the Bible through biblical animated stories— reaching hundreds of millions of children and families all over the world with the truth of God's love and grace.
We urgently need your support to share the stories of the Bible with tens of thousands of Japanese children. Your gift will play a vital role in continuing Superbook broadcasts in Japan, translation for episodes, mobile apps and the website, developing resources for schools and churches, and much more!
Share the newest DVD releases of Superbook with the precious little ones in your life. When you do, you'll also be helping to produce, translate, and share these captivating animated stories with the children of the world in their own languages.