Damiel's family survived a killer typhoon that struck the Philippines. They lost everything except some surf boards from a family rental business. Relief supplies never came so they escaped by bus to live with relatives in Manila. There, Daemiel struggled with fear and loss.
"The waves from the typhoon were HUGE! I was so scared! I thought we were going to die," he told CBN. "I lost all of my things and I lost my friends. I had nightmares. In my dreams, I would get washed away and my family couldn't find me."
And Daemiel wrestled with a growing emptiness in his life too. That's when he started watching CBN's Superbook. He connected with the story of Job.
"I saw myself in the story," he said. "He lost all of his possessions and his children. Superbook showed me that God is with us and He will take care of us."
After watching Daemiel prayed to become a Christian.
"I felt peace inside. I didn't have nightmares anymore!" he said. "Jesus is now my true friend. He's always there for me and he gives me strength."
Help us reach children around the world with the Bible in their own language, in ways they can easily understand.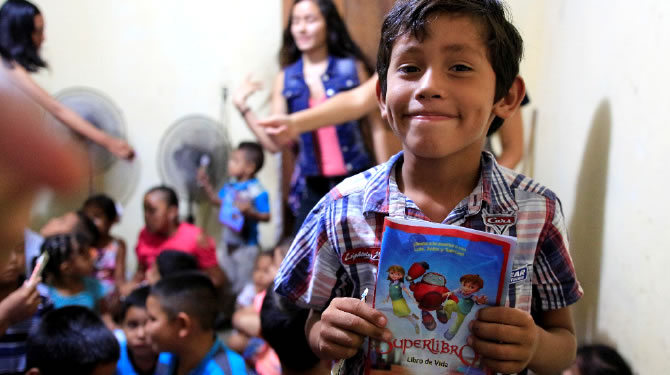 Support the Superbook Project
The Superbook Project is a donor-funded initiative that for over 35 years has shared the timeless message of the Bible through biblical animated stories— reaching hundreds of millions of children and families all over the world with the truth of God's love and grace.
We urgently need your support to share the stories of the Bible with tens of thousands of Japanese children. Your gift will play a vital role in continuing Superbook broadcasts in Japan, translation for episodes, mobile apps and the website, developing resources for schools and churches, and much more!
Share the newest DVD releases of Superbook with the precious little ones in your life. When you do, you'll also be helping to produce, translate, and share these captivating animated stories with the children of the world in their own languages.