Bringing the Bible to UK Schools
Video Transcript:

Hello from beautiful Wales! Today I'm in one of the local primary schools where Superbook school lessons are being used in both key stage one and key stage two classes. I am so excited to see how Superbook is used in the classroom. Lets go!

"Makes me feel more confident because, like it gets me really scared when I'm just up on a stage with everyone watching me. But I after that video I think next time that I ever go up on stage, I am gonna know that God is with me and I can do it."

"I like Superbook because without them I wouldn't have as much positivity in my life."

As you can see we have an incredible opportunity to share God's Word in our schools reaching a new generation with the truth of the gospel. More than five hundred schools have requested access to our free Superbook school resources to use in their RE lessons and assemblies. Every story meets the national curriculum requirements and makes it easy for teachers and children to use. If you would like to be a part of this amazing opportunity to share God's word in schools right here.

Thank you for helping us bring the timeless truth of God's Word into our schools!
Help us reach children around the world with the Bible in their own language, in ways they can easily understand.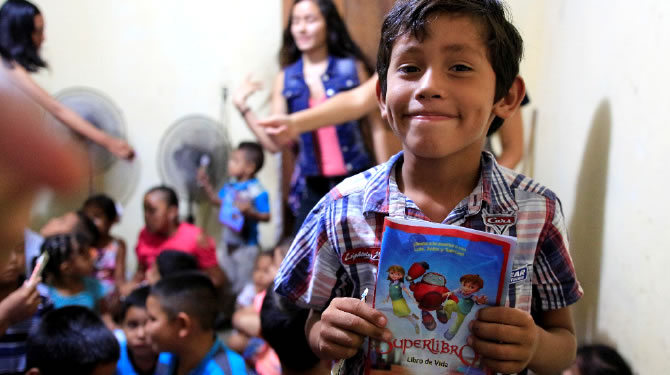 Support the Superbook Project
The Superbook Project is a donor-funded initiative that for over 35 years has shared the timeless message of the Bible through biblical animated stories— reaching hundreds of millions of children and families all over the world with the truth of God's love and grace.
We urgently need your support to share the stories of the Bible with tens of thousands of Japanese children. Your gift will play a vital role in continuing Superbook broadcasts in Japan, translation for episodes, mobile apps and the website, developing resources for schools and churches, and much more!
Share the newest DVD releases of Superbook with the precious little ones in your life. When you do, you'll also be helping to produce, translate, and share these captivating animated stories with the children of the world in their own languages.