Superbook Gives a Little Boy Peace of Mind
Although only twelve, Zakhar was struggling with the big questions of life and death. Although he was very popular at school and had lots of friends, he wondered what the point of life was. "I knew God existed," he explained, "We even had a Bible, but I didn't read it or understand it."
Soon, Zakhar was invited to his friend's church, where he saw Superbook for the first time. His questions multiplied after watching the show. He said, "I couldn't sleep because I was thinking, 'Why was I born?'" He became afraid of death and wondered where he soul would go.
Then, Zakhar saw the Superbook episode, "He is Risen!" and it all became clear. He understood what Jesus had done for him, and he prayed to be a Christian. "I asked Jesus to come into my heart and save me, to forgive my sins and make me clean."
After that point, Zakhar was no longer afraid and could sleep again at night. He also invited his family to church and they became Christians as well.
"I have been attending Superbook for four years now. Superbook has changed me!" he said confidently. "I like Superbook. It helps kids learn about God. Thanks so much for giving it to us."
Help us reach children around the world with the Bible in their own language, in ways they can easily understand.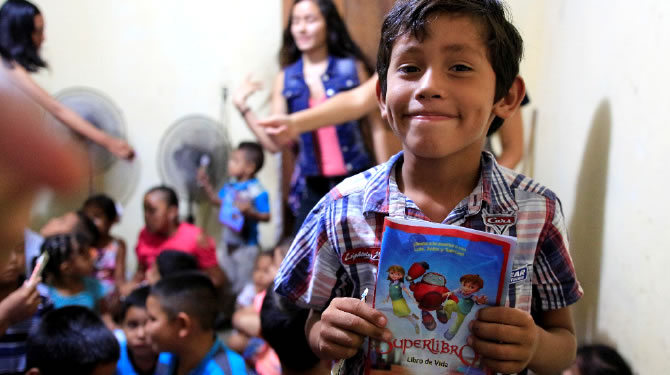 Support the Superbook Project
The Superbook Project is a donor-funded initiative that for over 35 years has shared the timeless message of the Bible through biblical animated stories— reaching hundreds of millions of children and families all over the world with the truth of God's love and grace.
We urgently need your support to share the stories of the Bible with tens of thousands of Japanese children. Your gift will play a vital role in continuing Superbook broadcasts in Japan, translation for episodes, mobile apps and the website, developing resources for schools and churches, and much more!
Share the newest DVD releases of Superbook with the precious little ones in your life. When you do, you'll also be helping to produce, translate, and share these captivating animated stories with the children of the world in their own languages.