Growing up with a Muslim mom and a Christian dad confused 11-year-old Rafi.
"When I was younger my dad never told me about Jesus," said Rafi
Rafi received plenty of input from his mom's side of the family, however.
"My aunts really pushed me toward Islam," he recalled. "I remember sometimes they said 'You must not follow your father's religion because he is different than us.'"
Then new friend invited him an afterschool program supported by CBN's Orphan's Promise. Rafi's dad dropped him off at the church the next day.
"They provide free tutoring for kids," said Rafi. "I was a little shy when I went, but the teacher was friendly and kind.
At the end of that first class, Rafi's teacher gave him a DVD to watch at home: The CBN Superbook episode HE IS RISEN.
"It really touched me when Jesus breathed His last breath on the cross," said Rafi. "Then God's Temple collapsed and one Roman soldier finally believed that Jesus is the Son of God.
Later in the DVD, the host invited kids to pray to receive Jesus as Savior. Rafi hesitated.
"I decided not to pray at that moment because I thought my sister would tease me and because I wasn't sure I believed in Jesus 100%," recalled Rafi soberly.
Yet each time he watched Superbook at the afterschool program, Rafi grew more convinced about what he needed to do. After school one day he sat on the corner of his bed and prayed to receive Jesus as Savior.
"I decided to pray that day because I really wanted to believe in Him," he said.
Rafi's teacher notice a change in him.
"I remember he said one time, "It's just different what I feel inside. I feel happier and the feeling is just, different than before," she said.
Rafi began to urge his dad to go to church and now they both attend together. Rafi also prays for his mom and his sister to believe in Jesus too.
"I love Superbook because it tells great stories," he said. "I am learning things from the Bible characters, and Superbook is helping me grow closer to God every week!"
Help us reach children around the world with the Bible in their own language, in ways they can easily understand.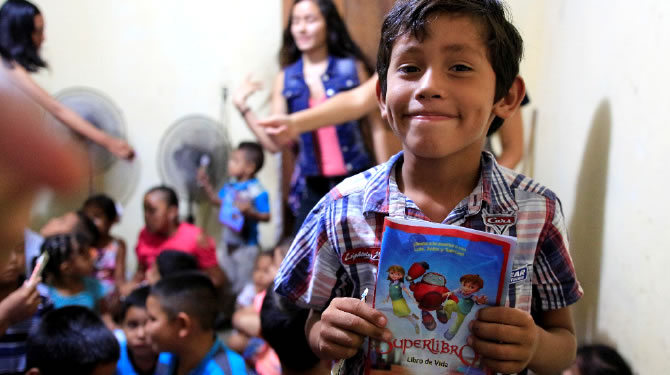 Support the Superbook Project
The Superbook Project is a donor-funded initiative that for over 35 years has shared the timeless message of the Bible through biblical animated stories— reaching hundreds of millions of children and families all over the world with the truth of God's love and grace.
We urgently need your support to share the stories of the Bible with tens of thousands of Japanese children. Your gift will play a vital role in continuing Superbook broadcasts in Japan, translation for episodes, mobile apps and the website, developing resources for schools and churches, and much more!
Share the newest DVD releases of Superbook with the precious little ones in your life. When you do, you'll also be helping to produce, translate, and share these captivating animated stories with the children of the world in their own languages.