Why Do Kids Love Superbook?
10-year-old Oktavia knew her family came from a different religious background than most of the kids at school.
"Most of the students at school are Hindus and Christians," she told us. "I was a Muslim."
But Oktavia grew curious when a friend invited her to watch CBN's Superbook with her at church in Indonesia. She asked her mom Musripa if that would be ok.
"I remember she said, 'Mom, may I go to Sunday school?' I said, 'It's up to you, even though I had no idea what Sunday school was," she said with a smile.
Oktavia watched Superbook in class for several months. Then one Sunday she connected with the Easter Special episode "He is Risen."
"That was the day I saw that they crucified Jesus. His hands and feet were nailed to the cross. I was surprised when that happened. I learned that He died to take away our sins."
Oktavia's then prayed with the host of the program to become a Christian.
"I prayed, 'Lord Jesus, I invite You to come into my heart. I felt peace because I knew he forgave me and came to live inside me."
Oktavia then told her mom and dad about her decision to become a Christian.

"I told her 'If you are going to do it, you have to be serious and committed to it.' She said 'ok,' but we let her decide, said Musripa.
Oktavia now reads her Bible, which her teacher gave her, and is praying for her family. She also invited her younger brother Roni to watch Superbook with her.
"Mom walks us to the Sunday school but sometimes dad takes us too. I also prayed, 'Lord Jesus, please come into my heart'" added Roni.
Oktavia is growing in her faith and her family is noticing a change in her as well.
"Before I joined the Superbook class, I did bad things like teasing and disobeying mom," said Oktavia. "Now the Lord Jesus is changing me into a good kid! Thank you to EVERYONE who brought Superbook to us!"
Help us reach children around the world with the Bible in their own language, in ways they can easily understand.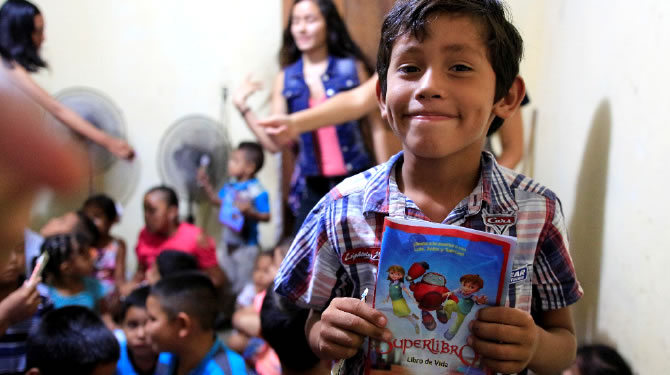 Support the Superbook Project
The Superbook Project is a donor-funded initiative that for over 35 years has shared the timeless message of the Bible through biblical animated stories— reaching hundreds of millions of children and families all over the world with the truth of God's love and grace.
We urgently need your support to share the stories of the Bible with tens of thousands of Japanese children. Your gift will play a vital role in continuing Superbook broadcasts in Japan, translation for episodes, mobile apps and the website, developing resources for schools and churches, and much more!
Share the newest DVD releases of Superbook with the precious little ones in your life. When you do, you'll also be helping to produce, translate, and share these captivating animated stories with the children of the world in their own languages.