Superbook Returns to Japan
Children in Japan were the first to view Superbook when during its initial release in 1981.
Eventually, more than 8 million people a night watched Superbook on Japanese prime-time television, and the Bible became the nation's best-selling book.
However, the Japanese stopped regular broadcasts in the early 1980's. But after more than two decades, the new series of Superbook Reimagined was resurrected on Japanese national television this past Christmas Eve.
Attending Christmas Eve service is a tradition for Christians in Japan and afterwards, in most Japanese churches, everyone stays and enjoys a meal together – a very important time of fellowship that they wouldn't miss, especially since many church members are the only Christians in their family.
For the Tamai Family, this past Christmas Eve was extra special.
Charlie Tamai shared how excited he was because after more than two decades, he could again watch Superbook, this time with his wife and children.
CBN's Superbook, known as Animated Parent and Child Theatre in Japan, first aired on prime time television there, as part of an outreach.
Charlie Tamai recalled how children during the early 80's, loved to watch Superbook.
"We'd talk about it in school the next day. It was really amazing at that time. All the kids knew about the Bible because of that broadcast. So I think it is really great that it is on television again."
The Tamai family invited 3 other kids to their home, who together with their children, watched the first episode of Superbook that was translated in Japanese.
All their attention was focused on the story of the First Christmas.
The Tamai children, Yurie and Kou, are happy their friends got to watch Superbook. It was the first time they learned the story of Christmas. And the first time their friends heard the name of Jesus.
Tamai said he and his wife are happy that Superbook is helping them teach their children about Biblical truths. Tamai said what the Bible teaches is different from what is being taught in school.
"Our children are required to join festivals where they are taught dances that welcome ancestral spirits. I am glad that through Superbook, our children and their friends can learn about stories in the Bible and Christian values."
After watching the episode, the kids eagerly answered a quiz about the Superbook story. And when asked how they felt about the program, they said they really liked it and will surely invite friends to join them the next time they watch Superbook.
Help us reach children around the world with the Bible in their own language, in ways they can easily understand.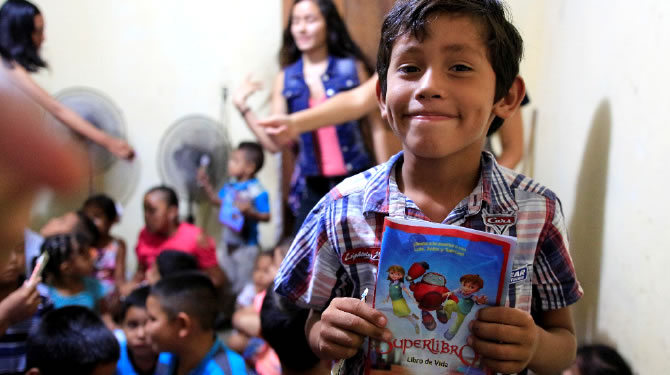 Support the Superbook Project
The Superbook Project is a donor-funded initiative that for over 35 years has shared the timeless message of the Bible through biblical animated stories— reaching hundreds of millions of children and families all over the world with the truth of God's love and grace.
We urgently need your support to share the stories of the Bible with tens of thousands of Japanese children. Your gift will play a vital role in continuing Superbook broadcasts in Japan, translation for episodes, mobile apps and the website, developing resources for schools and churches, and much more!
Share the newest DVD releases of Superbook with the precious little ones in your life. When you do, you'll also be helping to produce, translate, and share these captivating animated stories with the children of the world in their own languages.