At six years old, Joshua already has a heart to share Jesus with other kids. His message to them when he talks to them is simple:
"I want all of you to know that God loves you!"
Joshua learned about God from his parents and from watching episodes of CBN's Superbook, his favorite TV show. He also enjoys inviting neighbors and classmates to his house watch with him. One day Joshua had an idea. He asked his mom if he could invite Superbook to a Christian festival held in this farming community in South Philippines, where he lives.
"And I looked at him and I was like great idea! And I told him you have to pray," said his mom Michelle.
Joshua demonstrated how he prayed:
"I was like this: 'Lord Jesus please make Gizmo come. I want the other kids to know about Jesus.'"
Joshua was surprised when Superbook and Gismo arrived to be part of the festival.
"Oh my gosh is that really Gizmo?" said the boy with a smile. "I took selfies and pictures with Gizmo and everyone."
"Superbook came over to Sarangani and children from every tribe in our area, even some Muslim kids were there were able to hear the Gospel and able to really engage with Superbook," reported Michelle.
Joshua loves Superbook so much that he's even used it to share Jesus with kids in schools in the region.
"I want them to learn about Jesus because I want them to be blessed," said Joshua.
"I know this is not us, it is God who is working through my child's life," added Michelle. "Superbook is really a good tool in building our child's faith. This is it, this is the material for this next generation."
"God gave us everything. It's our turn to give Him something!" concluded the young evangelist.
Help us reach children around the world with the Bible in their own language, in ways they can easily understand.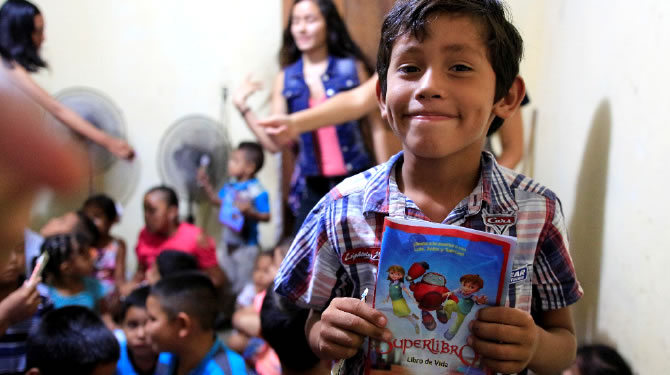 Support the Superbook Project
The Superbook Project is a donor-funded initiative that for over 35 years has shared the timeless message of the Bible through biblical animated stories— reaching hundreds of millions of children and families all over the world with the truth of God's love and grace.
We urgently need your support to share the stories of the Bible with tens of thousands of Japanese children. Your gift will play a vital role in continuing Superbook broadcasts in Japan, translation for episodes, mobile apps and the website, developing resources for schools and churches, and much more!
Share the newest DVD releases of Superbook with the precious little ones in your life. When you do, you'll also be helping to produce, translate, and share these captivating animated stories with the children of the world in their own languages.