Ministry Partnership with OneHope and Operation Blessing
Thanks to you—our Superbook Project partners—we, along with Operation Blessing and OneHope, brought help to those devastated by Hurricane Willa in Mexico. The communities of Sinaloa and Nayarit received clean water, hot meals, and help cleaning their homes in the aftermath of this disaster.
You also helped deliver sanitizing chlorine to prevent spread of disease and infection. And for the youngest survivors of the trauma, we were able to organize screenings of CBN's Bible animation series, Superbook. The children received Book of Hope activity books, produced by OneHope. With solar lamps provided by Operation Blessing, they could enjoy them throughout the hours of the night. Thank you, Project Superbook partners, for teaming up with Operation Blessing and OneHope to bring help and comfort to the people of these communities.
Help us reach children around the world with the Bible in their own language, in ways they can easily understand.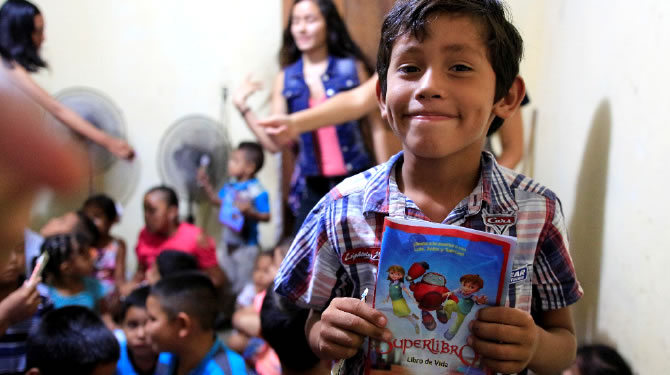 Support the Superbook Project
The Superbook Project is a donor-funded initiative that for over 35 years has shared the timeless message of the Bible through biblical animated stories— reaching hundreds of millions of children and families all over the world with the truth of God's love and grace.
We urgently need your support to share the stories of the Bible with tens of thousands of Japanese children. Your gift will play a vital role in continuing Superbook broadcasts in Japan, translation for episodes, mobile apps and the website, developing resources for schools and churches, and much more!
Share the newest DVD releases of Superbook with the precious little ones in your life. When you do, you'll also be helping to produce, translate, and share these captivating animated stories with the children of the world in their own languages.