Seven Grandkids Raised on Superbook
Al and Mary's seven grandchildren are the joy of their lives.
"Being 'Papa Al' is a pretty cool thing because you get all the fun stuff of being a dad and none of the hassles," Al explains.
And as much as the couple enjoys treating the kids to fun and games, they're even more interested in laying a foundation of faith for them. One way they do that is through CBN's Superbook.
Mary says, "It's teaching them the truth, teaching them Bible, and giving them a direction."
Al ads, "The kids are very visual. They like cartoons, and they like stories like that, so that's the way to reach them, and I just feel good about reaching them with a story content that's going to give them, you know, questions and knowledge about the Lord because they don't always get that in their day-to-day lives."
Now, their "grands" can't get enough of Superbook!
Ava explains, "I always ask 'Can we watch Superbook?' because I love it!"
Jacob chimes in, "My favorite Superbook is Daniel and the Lion's Den."
Kendall exclaims, "I like seeing Chris and Joy going into the Bible because I'm so excited to see them talk about Jesus."
Al and Mary say their favorite part is seeing their grandchildren learn about Jesus!
Al says, "A good part of their spiritual upbringing and knowledge of the Lord and coming to the Lord has been through Superbook."
Mary adds, "When we take them to church like on the way home that we'll say, 'What did you learn in church today?' 'Oh, we learned the same story that we saw in the Superbook.' So, there's that correlation in the memory that is being instilled in their little brains, which is very cool."
As CBN Partners, the couple knows their gifts are making this same opportunity available to children all over the world.
Al shares, "One of the best things about Superbook is the money that we contribute toward that program is allowing other kids who don't have a 'Papa Al' to be able to see all these great stories in whatever their native language is. I think little kids deserve a chance for a decent childhood. So, anything we can do to help that, I really am all behind."
The kids conclude with a cheer and dance, "1, 2, 3…We love Superbook!"
Help us reach children around the world with the Bible in their own language, in ways they can easily understand.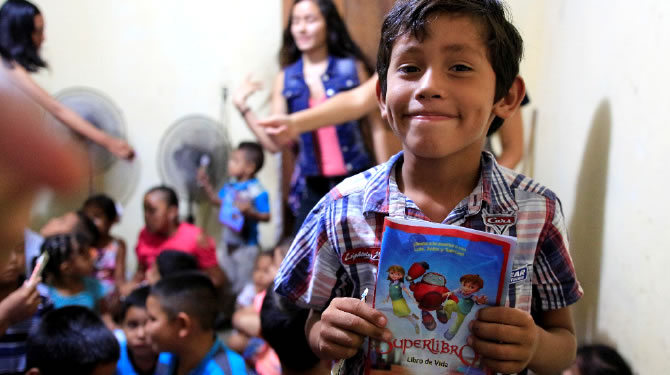 Support the Superbook Project
The Superbook Project is a donor-funded initiative that for over 35 years has shared the timeless message of the Bible through biblical animated stories— reaching hundreds of millions of children and families all over the world with the truth of God's love and grace.
We urgently need your support to share the stories of the Bible with tens of thousands of Japanese children. Your gift will play a vital role in continuing Superbook broadcasts in Japan, translation for episodes, mobile apps and the website, developing resources for schools and churches, and much more!
Share the newest DVD releases of Superbook with the precious little ones in your life. When you do, you'll also be helping to produce, translate, and share these captivating animated stories with the children of the world in their own languages.