Nine-Year-Old Alaine Shares the Love of Jesus
Nine-year-old Alaine looks forward to Saturdays because that's the day she gets to work on her art projects.
"I enjoy molding clay into trees, fruits and animals," says Alaine "I'm always excited to see the different figures that my hands can create."
Then one Saturday, she took a break from her artwork to watch an episode of CBN'S Superbook. Many of the kids from her neighborhood went to the nearby CBN office to watch as well.
"I'd read about the story of Adam and Eve before," Alaine explains, "but watching it on Superbook was much better! I saw what they looked like and how they lived. I also learned lessons about the importance of obeying our parents."
Back home, Alaine couldn't stop thinking about that Superbook episode. So she decided to create the creation story out of clay.
"I followed the order that God created everything," says Alaine. "The sky first, then day and night, until He made man. I showed how Adam and Eve disobeyed God's command. I made it to remind myself to obey."
As Alaine watched more Superbook episodes, something else happened.
"I remember when Jesus was nailed on the cross even though He didn't do anything wrong," Alaine points out. "I saw how much He loved us. I wanted tell others what Jesus did to save us."
So Alaine created more clay figures from the Bible and invited other kids to watch Superbook.
"I prayed with some of them," Alaine shares, "and they asked Jesus to forgive them and to come into their hearts."
Four of those children who prayed with Alaine are now going to church.
"I am grateful to those who created Superbook," Alaine says. "It gives me a clear picture of the Bible stories so I can tell others about them. Thank you!"
Help us reach children around the world with the Bible in their own language, in ways they can easily understand.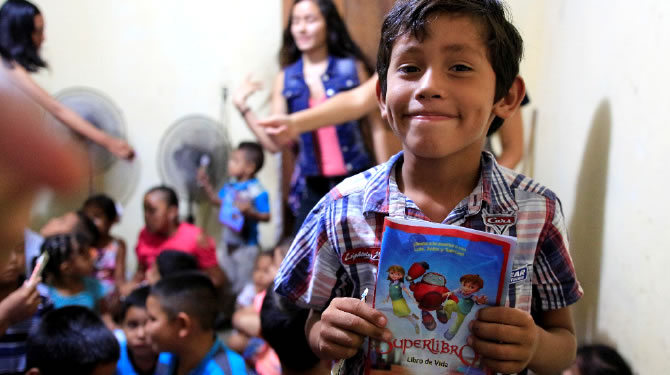 Support the Superbook Project
The Superbook Project is a donor-funded initiative that for over 35 years has shared the timeless message of the Bible through biblical animated stories— reaching hundreds of millions of children and families all over the world with the truth of God's love and grace.
We urgently need your support to share the stories of the Bible with tens of thousands of Japanese children. Your gift will play a vital role in continuing Superbook broadcasts in Japan, translation for episodes, mobile apps and the website, developing resources for schools and churches, and much more!
Share the newest DVD releases of Superbook with the precious little ones in your life. When you do, you'll also be helping to produce, translate, and share these captivating animated stories with the children of the world in their own languages.