"I Didn't Know Jesus Could Save Me!"
Venita grew up in a Buddhist household in Indonesia. Her mom, Lili, was Christian but didn't practice her faith.
"We lived with my mother in law and I didn't want to have a conflict with her or my husband over religion," Lili told CBN.
So Venita never learned about her mother's background, and didn't learn much about her father and grandmother's Buddhist beliefs either.
"My parents never talked about God," said Venita.
But Venita was curious when, one Sunday, her mom started going to church. Lili told the kids to "stay home" and that she would be home soon. Venita wondered what was up!
"I didn't know what church looked like. I couldn't even imagine it," recalled Venita.
The next Sunday, 12-year-old Venita asked if she go to church with her mom. That's when she watched CBN's Superbook for the first time.
"When I watched the story of Moses, I learned that God has great POWER. He can split the sea and and helped all of the suffering people to escape!"
At the end of that episode, Venita teacher told the class that Jesus died for their sins and invited Venita to pray to become a Christian. Venita prayed that day and surrendered her life to Jesus.
"Before I heard about Jesus, I didn't know that He could save me! But he did! "Jesus has changed me and made me a better person."
Venita then invited her older sister to church and she prayed to become a Christian too.
"I am now praying every night for my dad and my brother and grandma so they can know about Jesus and become Christians too!" said Venita. "Thank you very much Superbook for teaching me about Him."
Help us reach children around the world with the Bible in their own language, in ways they can easily understand.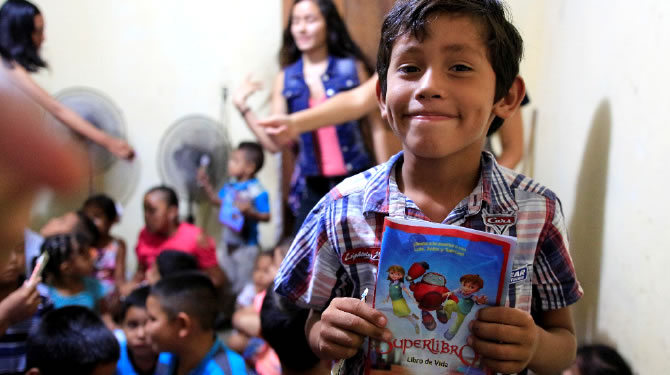 Support the Superbook Project
The Superbook Project is a donor-funded initiative that for over 35 years has shared the timeless message of the Bible through biblical animated stories— reaching hundreds of millions of children and families all over the world with the truth of God's love and grace.
We urgently need your support to share the stories of the Bible with tens of thousands of Japanese children. Your gift will play a vital role in continuing Superbook broadcasts in Japan, translation for episodes, mobile apps and the website, developing resources for schools and churches, and much more!
Share the newest DVD releases of Superbook with the precious little ones in your life. When you do, you'll also be helping to produce, translate, and share these captivating animated stories with the children of the world in their own languages.