How a Cartoon Turned Hate Into Love
"I thought that my mom loved him more than she loved me!" said Derek when he thought about the marriage between his mom and new stepdad. Derek said he made things as difficult as possible for his mom and his step-dad Raymond.
"I never obeyed him because I didn't want him here," said Derek.
Raymond told CBN that Derek frequently reminded him of his "position" in the family.
"'Mind your own business!' Derek told me. 'I don't need to listen to you because you're not my dad!'"
Bitterness filled the boy's heart. "I wanted them to fight so they would separate," he said. "I wanted him to disappear."
Heartbroken, Raymond continued to pray for his stepson. "I asked God why does he act this way? Everything I do, I do for him."
One day Derek attended an Orphan's Promise program run by a church partner in Ecuador. There he began to watch CBN's Superbook.
"I love the episode about Moses, where he told Pharaoh to 'Let my people go!'" said Derek.
Derek learned something else about Moses from that episode.
"I learned he had another family, just like me."
That day, Derek prayed with his teacher.
"After the video she said, 'Would you like to pray to receive Jesus?' I said, 'Yes! Lord I receive you as my King and my Savior.'"
Raymond noticed a change in the boy right away. "That's when he changed. He identified with the story of Moses, and God changed him! I get emotional just thinking about it because he's no longer rebellious. He's the opposite!"
"My heart was full of joy when he called me dad for the first time!" added Raymond.
"My life changed!" said Derek. "I'm no longer mean to my stepdad. God gave me a deep love for him!"
"I want to say 'Thanks for Super Book.' Your stories have changed my life!"
Help us reach children around the world with the Bible in their own language, in ways they can easily understand.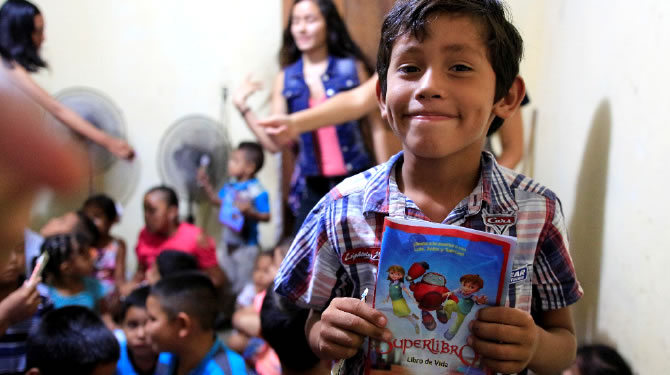 Support the Superbook Project
The Superbook Project is a donor-funded initiative that for over 35 years has shared the timeless message of the Bible through biblical animated stories— reaching hundreds of millions of children and families all over the world with the truth of God's love and grace.
We urgently need your support to share the stories of the Bible with tens of thousands of Japanese children. Your gift will play a vital role in continuing Superbook broadcasts in Japan, translation for episodes, mobile apps and the website, developing resources for schools and churches, and much more!
Share the newest DVD releases of Superbook with the precious little ones in your life. When you do, you'll also be helping to produce, translate, and share these captivating animated stories with the children of the world in their own languages.