Homeschooling with Superbook
"I love David and Goliath," exclaimed four-year-old Lydia, "Because the parents don't fight him, but the little kid does. He had God with him," she said, explaining about the Superbook episode, "A Giant Adventure."
For homeschoolers Allison and Ryan, finding Bible-based materials to use alongside their daily Bible lessons can be challenging. When they discovered Superbook, they knew that it would be the perfect addition to not only the school curriculum for their two children, but also in their daily lives.

"I'd never seen anything like that before," Allison said. "Not just for children, but for adults, the way that they told the Bible story. When I know there is so much care and effort put into each episode and so much attention to detail to make sure they are not deterring from God's Word. I think that's why it is such a powerful thing for kids to watch." She was so impressed that she even started promoting the Superbook Club on her personal YouTube channel and her blog so that more people can find it and use it with their families.

Now, each night, Ryan and Allison read the Bible to their children before bed. Then, the next morning, to reinforce the story, they show the kids the corresponding episode. Ryan said, "Lydia's favorite episode of Superbook is Jesus dying on the cross. She very clearly understood that sin separates us from a relationship with the Lord. At four, that's amazing!"

Both parents have been pleased with the impact that Superbook has had on their children's lives. Allison said, "I've noticed that both my kids are taking a lot more care with their decisions: 'Am I going to choose to follow God or am I going to choose to follow my own way?' To see that Chris and Joy and the Bible characters face these really hard, tough things that seem impossible and they can come out on the other end and say 'nothing is impossible with God.'"

Help us reach children around the world with the Bible in their own language, in ways they can easily understand.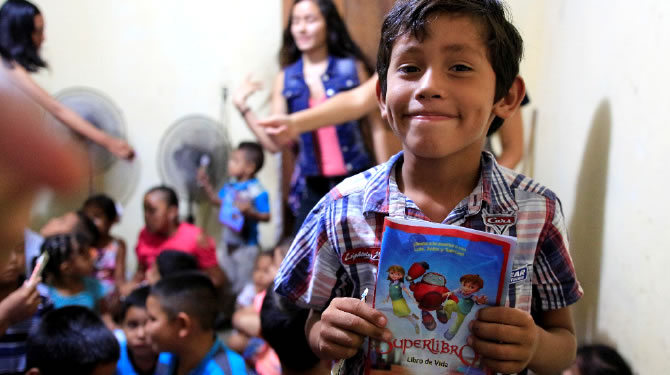 Support the Superbook Project
The Superbook Project is a donor-funded initiative that for over 35 years has shared the timeless message of the Bible through biblical animated stories— reaching hundreds of millions of children and families all over the world with the truth of God's love and grace.
We urgently need your support to share the stories of the Bible with tens of thousands of Japanese children. Your gift will play a vital role in continuing Superbook broadcasts in Japan, translation for episodes, mobile apps and the website, developing resources for schools and churches, and much more!
Share the newest DVD releases of Superbook with the precious little ones in your life. When you do, you'll also be helping to produce, translate, and share these captivating animated stories with the children of the world in their own languages.