Cartoon Hero Transforms Young Girl
"When I was five or six years old, I watched Superbook for the first time."
10-year-old Einia found a hero in her favorite cartoon series.
"I am thinking all the time, why can't I become like Joy, She believes in God and she is good and kind." I began to believe. And I started to pray."
Einia's mother saw changes in her daughter.
"This cartoon changed the life of my daughter. In the story of Ester, when Joy makes friends with children that others have rejected. It had a strong impact on Einia.
Einia explains, "Joy in the cartoon walks with the girl named Bonney who uses a wheelchair. I thought if Joy can be so kind and brave, so can I."
So Einia befriended a child at school who had been bullied by classmates.
"I found out that she was a nice person and I realized that all people need to be given a chance."
Einia is one of the thousands of children across Albania whose lives have been changed through CBN's Superbook.
Albanian missionary Rachel Byler has witnessed the influence of Superbook firsthand.
"We love Superbook in Albania. Wherever we go, the kids all know the song and it's the song of salvation."
Einia's mother says, "This cartoon is very important for our country, because so many children are in families who don't know Jesus. But they now know Gizmo, Joy, and Chris and they hear about God through them."
Einia smiles when she says, " Now I talk to my friends about Jesus.
Thank you to everyone who made the wonderful Superbook."
Help us reach children around the world with the Bible in their own language, in ways they can easily understand.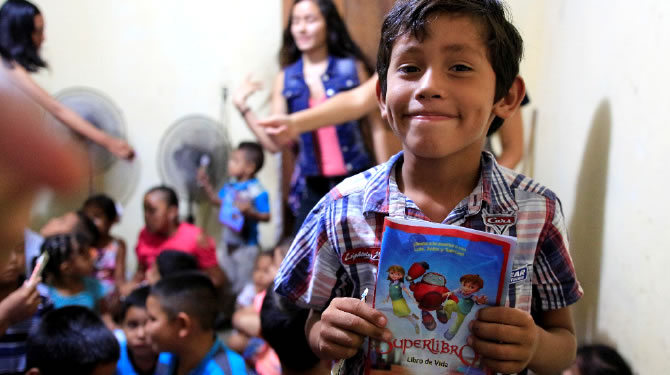 Support the Superbook Project
The Superbook Project is a donor-funded initiative that for over 35 years has shared the timeless message of the Bible through biblical animated stories— reaching hundreds of millions of children and families all over the world with the truth of God's love and grace.
We urgently need your support to share the stories of the Bible with tens of thousands of Japanese children. Your gift will play a vital role in continuing Superbook broadcasts in Japan, translation for episodes, mobile apps and the website, developing resources for schools and churches, and much more!
Share the newest DVD releases of Superbook with the precious little ones in your life. When you do, you'll also be helping to produce, translate, and share these captivating animated stories with the children of the world in their own languages.