Calming Fears and Ministering to Children After a Typhoon
GUIUAN SAMAR, Philippines – The U.N. reports 4 million Filipino children have been left traumatized by the monster typhoon that struck their homeland in November.
Relief teams are bringing not only food and water, but spiritual help as well. CBN's Superbook ministry is reaching out to these children in a unique and entertaining way.
It can be difficult to measure how much the children have been affected by Typhoon Haiyan. The storm took their loved ones, friends, homes and schools.
As a form of trauma counseling, a CBN Disaster Relief team held Superbook screenings in different villages hit hard by the typhoon.
For a community that hasn't had electricity for more than a month, the Superbook screening is a real treat to these children and their parents. Not only are they entertained, but they are also fed the Word of God that brings them hope and values they can apply in their lives.
"We were walking home when my children saw Superbook on the screen," typhoon survivor Rogelio Catarlilio recalled. "My children pleaded that we stop by and join the other children."
"And so now, we come here every night because my children said they want to see 'Papa Jesus,'" he continued. "They are very happy and I am thankful to Superbook because my children who were traumatized by the typhoon are not afraid anymore. Even I am hopeful again."
Each night, hundreds flocked to watch the animated Bible stories. Police officer Cheryl Morada was overwhelmed at the turnout, with 800 attending in one village.
She said she's happy her station has supported the effort and escorted the CBN team.
"Our department oversees all the organizations who are giving aid to typhoon victims. And we support Superbook because it is really unique from the rest," Morado said.
"Watching the cartoon, we ourselves who are adults and victims, too, were de-stressed, so how much more the children," she said. "We get positive feedback from the parents that their children who became afraid of the rain have forgotten all about their fear because of Superbook."
"I was crying because I can see the children are very happy. I really felt sorry for them that because of the storm, they have to suffer so much," villager Bernardo Chua said. "I want to thank you personally because I am so touched for how you are helping our children."
Superbook's theme song fits their situation, especially the part in the Filipino language that says, "Help me begin again as I offer my life to you."
"I can share what I learned from Superbook to my friends. We should be kind, generous, and obedient to our parents," Uldrick Somoray, 12, said. "And we can apply what the song says…even if we were devastated by the storm, with God's help, we will be able to begin again and rebuild our lives."
It can take years or longer to erase the scars that Haiyan left in the minds of the children. But for every boy and girl attending the Superbook event, one good memory will remain embedded in their hearts.
Help us reach children around the world with the Bible in their own language, in ways they can easily understand.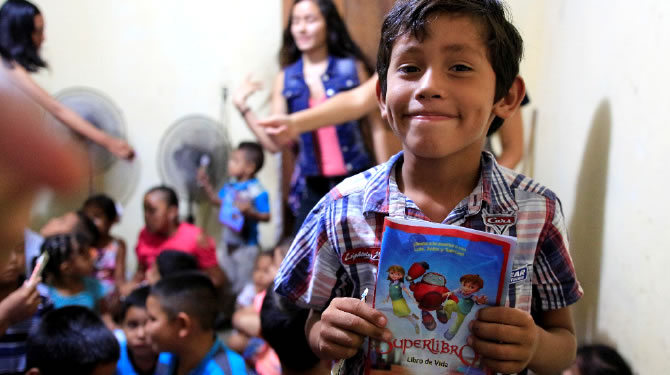 Support the Superbook Project
The Superbook Project is a donor-funded initiative that for over 35 years has shared the timeless message of the Bible through biblical animated stories— reaching hundreds of millions of children and families all over the world with the truth of God's love and grace.
We urgently need your support to share the stories of the Bible with tens of thousands of Japanese children. Your gift will play a vital role in continuing Superbook broadcasts in Japan, translation for episodes, mobile apps and the website, developing resources for schools and churches, and much more!
Share the newest DVD releases of Superbook with the precious little ones in your life. When you do, you'll also be helping to produce, translate, and share these captivating animated stories with the children of the world in their own languages.