Alcoholic Father Changed By Superbook
Whenever Chovoin (show-VON) came home from school, she knew it was best to wait outside until the shouting stopped.
"My parents argued almost every day. After they fought, I noticed the broken things inside our house," Chovoin told CBN.
One day some friends found her crying under a tree and invited her to watch Superbook with them at a mission church in the village.
"I saw the story of David and Goliath," recalled the young girl. "David was a boy who loved God. With God's help, he fought the giant!"
At the end of the episode, the pastor asked the children if they would like to pray to receive Jesus as savior.
"The pastor and Superbook taught me that I am a sinner, but God loves me. I asked him to forgive my sins. I also prayed my dad would stop drinking," added Chovoin.
Chovoin continued to pray. She told her parents, who were Buddhist, about Superbook and the Bible.
"God gave me the courage to talk to my dad about his drinking," she said. I told him, 'Daddy, God will forgive you.'"
"I went to church with Chovoin. I watched many Superbook episodes with her and learned about God. Then, I prayed to become a Christian," said Chovoin's dad.
"After my husband trusted in Jesus, he changed!" added her mom. "He doesn't drink anymore. He is loving and kind to our family!"
"Thanks to Superbook, my parents, sisters and brothers all know Jesus, just like me. I am so happy!" said Chovoin.
Help us reach children around the world with the Bible in their own language, in ways they can easily understand.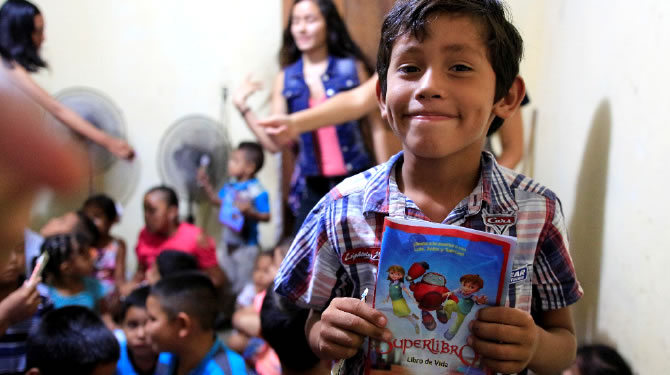 Support the Superbook Project
The Superbook Project is a donor-funded initiative that for over 35 years has shared the timeless message of the Bible through biblical animated stories— reaching hundreds of millions of children and families all over the world with the truth of God's love and grace.
We urgently need your support to share the stories of the Bible with tens of thousands of Japanese children. Your gift will play a vital role in continuing Superbook broadcasts in Japan, translation for episodes, mobile apps and the website, developing resources for schools and churches, and much more!
Share the newest DVD releases of Superbook with the precious little ones in your life. When you do, you'll also be helping to produce, translate, and share these captivating animated stories with the children of the world in their own languages.