Daw was at her wit's end. Her son Shine was both unruly and disrespectful. At only 8 years old, Shine had decided that if he didn't like doing chores, in his Myanmar home, he shouldn't have to do them. "He always argued with me and then he wouldn't obey me," said Daw. "Whether I spoke gently or gave him a punishment, he didn't listen."
One day, Shine heard about a nearby church that was showing cartoons for the local children. Thinking that cartoons were more fun than helping his mother with chores, he decided to attend. That was where he saw Superbook for the first time. While he expected to be entertained by the fun episodes, what he didn't expect was to be convicted in his heart. "I learned that arguing and disobeying is a sin," he explained. But more than that, he discovered an important truth: "I learned that Jesus died for my sins," he said, after he prayed for salvation.
From then on, Daw began to see a change in her son. "His behavior changed after he watched Superbook," she said. "He doesn't get angry as much and he obeys me."
Now Shine invites his friends over to his house to watch more Superbook episodes. He said, "I like when my friends come to watch. Thanks to Superbook, I know that God is always with me!"
Help us reach children around the world with the Bible in their own language, in ways they can easily understand.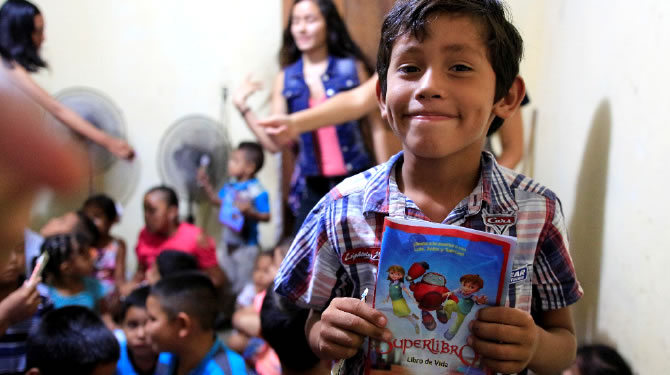 Support the Superbook Project
The Superbook Project is a donor-funded initiative that for over 35 years has shared the timeless message of the Bible through biblical animated stories— reaching hundreds of millions of children and families all over the world with the truth of God's love and grace.
We urgently need your support to share the stories of the Bible with tens of thousands of Japanese children. Your gift will play a vital role in continuing Superbook broadcasts in Japan, translation for episodes, mobile apps and the website, developing resources for schools and churches, and much more!
Share the newest DVD releases of Superbook with the precious little ones in your life. When you do, you'll also be helping to produce, translate, and share these captivating animated stories with the children of the world in their own languages.